iMRS and MRS 2000+ Reviews and Used iMRS or MRS2000 For Sale
iMRS2000 & MRS 2000+ Reviews and Used MRS2000 For Sale
Video Comparing iMRS to MAS  PEMF System – click here.
Video featuring Medithera, QRS Quantron and MRS 2000 – click here.
Video comparing MRS2000 and the QRS Quanton – click here.
Are you thinking about becoming a rep for Medi-Consult and selling the iMRS or MRS 2000?  If yes, then do yourself a favor and watch this….
SPECIAL ANNOUNCEMENT REGARDING THE NEW iMRS PEMF

According to the owner of Mediconsult, the fundamentals of the new iMRS 2000 PEMF machine have NOT changed from the previous model MRS2000.  It is the SAME BASIC MACHINE with a bell and a whistle added – the HRV Heart Rate Variability Analysis.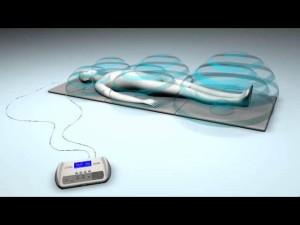 Neat idea.
We just wonder if people are going to be willing to pay an extra $500 per machine to have this reading available?
It really comes down to a matter of philosophy on how to design and deliver products.  One philosophy says to invest in a central unit that controls a number of accessories.  The other philosophy says to invest in a number of individual, specialized stand-alone products.
This contrast in business philosophy is on clear, bold display in the difference between Mediconsult-iMRS2000 and ElectroMeds.  The iMRS 2000 is a PEMF machine, a light and sound machine and now an HRV.  ElectroMeds sells the Medithera Magnetic Fields System PEMF, the latest and most advanced PEMF in the world.  ElectroMeds also sells stand-alone, professional grade light and sound machines.
OK, so what does all that mean?
It means that while a full MRS2000 Med with probe, delivered to California with tax was $4050.  A couple of months ago the new travel mat was introduced for $500.  Now the new iMRS2000 with HRV is $500 price increase over previous model MRS2000.  So now my base Med unit with probe would be $4550 delivered to California, plus the travel mat makes this PEMF unit a staggering $5050 delivered!!!  WOW…
ANNOUNCING – The ElectroMeds iMRS PEMF SPECIAL
We call this the:
"PRICE OF ONE iMRS + $1000 ($6050) = 2 FULL Medithera Systems WITH PENS DELIVERED SPECIAL"
Yes, you read it right.  2 Medithera full units includes pen, travel bag and shipping to your door for only $6050, approximately the same price as one new iMRS2000 plus $1000.
This is an overall discount of $530 for the two Medithera's.
Regularly Medithera $3250 + $40 shipping = $3290 x 2 = $6580 – SPECIAL $530 = $6050
Call, chat or email today to order your special.
.
===>>> MRS 2000 ORDER FORM – buy a used iMRS or MRS 2000 here
FOR SALE: 1 slightly used MRS 2000+ Med Unit with Probe (paid $4050 delivered) excellent condition (no tears), works perfect.  Includes control unit, pillow pad, probe and approx 1 year remaining on warranty.  $2000.   Call 877-40E-MEDS (877-403-6337) or  760-420-2788
.-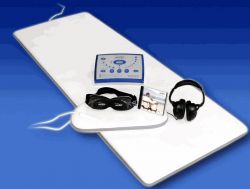 Frequency: .5 – 25 Hz Sinusoidal w/ Sawtooth Carrier Signal Waveform (full body mat), squarewave on pad and probe.
Intensity: 5 - 70 uT
Cost: $4050
Delivered to CA final price.  Your cost will vary in each state w tax & shipping.
Includes: control unit, full body mat, pillow pad and probe.


When the MRS 2000 is working, it makes you feel great – no joke!!  It really gets the job done when it comes to saturating your body with the penetrating electricity that it needs to heal quickly.  The intensity settings are high enough that you can feel like you are getting a good dose.  There are several drawbacks however.
Reasons Why MRS 2000 Is Second Place
The MRS 2000+ Designo Advantages:
1.  Comes with a 3 year warranty.
2. Powerful unit putting out field strength of  up to 70uT.
3. Big League Sales  – over 400,000 MRS 2000+ (QRS has sold 600,000+)
4. Can plug in all 3 applications at once.
5. Easy to use and set-up.
Disadvantages when compared to the QRS Quantron:
1. The MRS 2000+ does not have a return policy. The QRS has a 6 month return policy.
2. The MRS 2000+ designo must be flat. The vinyl mat has 6 round copper coils inside that cannot be bent. The mat must always be placed on a flat surface or you can damage the coils. The QRS uses an upgraded flexible mesh mat with the copper coiling woven throughout so your surface doesn't have to be flat. Feel free to put it on your favorite chair or recliner.
3. MRS 2000+ mat is not travel friendly. The mat must be folded in thirds so as not to bend the coils. You need a special travel bag (extra charge) and must be checked in as a separate item on most airlines. The QRS mat can be rolled up like a blanket fitting in your own personal luggage allowing for a more convenient travel experience.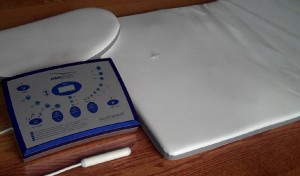 ***NOTE – HUGE PRICE INCREASE*** Mediconsult announces that there is now a "travel mat" available – ANOTHER $500!!!  Now it is $4,500 for a full MRS2000 system – compared to $3,250 for a QRS Quantron that is ready to travel.
4. Not Programmable. The MRS 2000+ cannot be pre-programmed during sleep. The QRS can be programmed to come on twice throughout your sleep cycle and for up to 1 hour. Plus the QRS can be programmed as not to light up or make any sound which would disturb the rhythm of your sleep.
5. Short Sessions. The MRS 2000+ can only be turned on for up to 24 minutes. The QRS can be turned on for up to 1 hour.
6. No Electronic Smog Protection. The MRS 2000+ has no protection from "electronic smog" devices other then making sure that your surroundings are as free from "electronic smog" as possible. The QRS is the only manufacturer who has taken this into account  and has a worldwide patent (#EP 0 621 795 B 1) on the "electronic smog killer" in combination with quantum therapy.
7.  Bulky, Older Looking Technology. The MRS 2000 looks nice and professional, until you set it next to a QRS – then the MRS looks kind of big and thick and sort of clunky.
8.  Coils Isolate Signals. The signals only come out of the coils.  Outside the coil area, no signal.
9.  Vinyl Shows Coil Imprint. After many hours of use, the vinyl covers start to show imprints of the coils inside.
10.  Plastic Vinyl Covers Tear. The vinyl mat and pad can tear.
11. Reliability. We have experienced reliability issues with each of the 4 components at least once.  Here is a detailed list of the application and it's issue:  The Control Unit – no power / Mat – vinyl tear / Pad – broken wire / Probe – Control Unit could not "find".  Customer service was very expedient with all replacements [Thank You!!!].
12. The MRS 2000+ is more expensive. It can be up to $800 more then the QRS
13.  MRS 2000 Peer Reviewed Scientific Research. None.  Most studies quoted were actually performed with QRS during it's 20 year development, which includes over 40 research studies.
14.  The MRS 2000+ has no Patents. The QRS has 4 (total) worldwide patents.
The MRS2000MED is a very good machine. Only when you compare it to the QRS Quantron do you really see that the QRS is a more updated version of this awesome technology. For these reasons we conclude  the MRS2000+ Designo deservers 2nd place in our comparison.
The MRS 2000+ designo® is a good, solid 2nd place.
Watch Our New Video – Comparing  QRS Quantron to the MRS 2000 Side By Side
Do you have a used MRS 2000 that you would like to sell?  List it Here FREE!